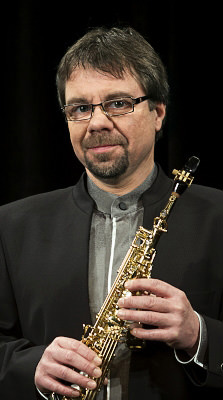 Pavel Fiedler, saxophone player and educator
Born on 13. 11. 1963 in Prague, he studied at the grammar school Na Zatlance and graduated in 1988 at the Conservatory of Jan Deyl – the clarinet under prof. Jiří Urban and chamber music under prof. Jiří Kratochvíl. During his studies he also played the saxophone. After his graduation P.Fiedler played with various ensembles, among others also the Badot Quartet and the Orchestra of Michal Pospíšil, whose saxophone section independently interpreted arrangements of jazz compositions for four saxophones. Ultimately Pavel´s attitude to the saxophone and chamber music led to his co-founding of the Bohemia Saxophone Quartet in 1990, an ensemble which has specialized not only in performing jazz, but predominantly contemporary chamber music. Over the years the ensemble has evolved into a superior musical body with a wide ranging repertory. Pavel Fiedler has performed with the Quartet at many major international music festivals (Prague Spring International Festival, Strings of Autumn (Struny podzimu), Concentus Moraviae, Prague International Jazz Festival, International Saxophone Quartet Festival Madona - Latvia, International Festival of Contemporary Music Contrasts – Ukraine, Klangspuren 06 – Austria, IX. Dresdner Saxophonmesse – Germany, Moravia Music Fest). The Bohemia Saxophone Quartet have done concert tours in many European countries, as well as in the USA, Israel, Jordan, Kuwait, Tunisia, Lebanon and Indonesia. They also become the finalists of the competition IX. Concours International de Musique de Chambre de Paris in 1998, have recorded four profile CD´s (History of Jazz, Saxcriptions, Jazz Inspiration, Bohemia Saxophone Quartet), and have taken part in other recordings (Umlkání, Mazel Tov!). Pavel Fiedler has also been an initiator for creation of dozens of compositions for the saxophone by contemporary Czech composers.
Pavel Fiedler has been frequently invited to co-operate with leading Czech symphonic orchestras and chamber ensembles (Czech Philharmonic, Symphonic Orchestra of Prague – FOK, Hradec Králové Philharmonic, Brno Philharmonic, Agon Orchestra, MoEns). As a soloist he has performed with Prague Chamber Philharmonic, South Bohemia Chamber Philharmonic, Lvov Chamber Philharmonic). He has worked with the orchestra of the State Opera (Bubu from Motparnass by E.F.Burian, Circus Terra by Trygve Madsen or La Roulette by Zdeněk Merta), the New Scene of the National Theatre (the performance of Karel Hynek Mácha R.I.P.) and orchestra Berg (lastly in the Czech premiere of the composition In Vain by G.F. Haas).
Pavel Fiedler has also regularly taken part in courses of interpretation led by the outstanding French saxophonist Philippe Portejoie. With other members of the Bohemia Saxophone Quartet they have successfully taught seminars and master classes both in Bohemia and abroad (Paris, Oslo, Lvov, Madona). As an educator he has been frequently invited to do seminars for teachers of music at basic music schools. He has taught music since 1986 and has been a teacher of the saxophone at Prague Conservatory since 2008.
Pavel Fiedler plays the Selmer Serie III soprano sax, Selmer S90 – 180, Selmer H mouthpieces, the Selmer Optimum ligature and Vandoren V5 No. 3, 5 reeds.