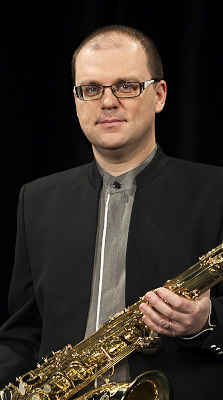 Pavel Škrna
Pavel Škrna was born on 21.5.1974 in Prague. Even during his studies at the Conservatory of Jan Deyl in Prague (the clarinet under prof. J. Urban, graduation in 1995) he was a member and soloist of various music ensembles, ranging from folklore (Karmína, with whom he recorded 2 CD´s) to classical music. He also played the saxophone in dance music (in 1992-93 was a member of Václav Hybš Orchestra) and jazz music. In 1993 he became a member of the Bohemia Saxophone Quartet. At the Conservatory of Jaroslav Ježek in Prague he has studied the saxophone under prof. J. Plaček (graduation in 2000), and continued with his studies at saxophone courses (Philippe Portejoie, Detlef Bensman, Piotr Baron) and seminars (E. Rousseau, E. Sampen, E. Nestler, V. Vals, but also F. Kopp and B. Mintzer). His music education has led him to arranging and amending music of different periods and various instruments, mostly for the Bohemia Saxophone Quartet.
Though Pavel Škrna feels to be primarily a member of a chamber ensemble the BSQ, he occasionally performs with ensembles and orchestras of different genres, among whom he most values leading Czech symphonic orchestras (Czech Philharmonic, FOK, PKF, SOČR, Brno Philharmonic, Hradec Králové Philharmonic, the National Theatre orchestra, the State Opera orchestra). He has also performed the Czech premieres of M. Mihalovici: Chant Premiere, T. Yoshimatsu: Fuzzy Bird Sonata, O. Adámek: Inflaction.
As a member of the orchestra he has played in theatre performances in the Theatre Na Vinohradech, Studio Dva, at the New Scene of the National Theatre and in the theatre Na Prádle. He was a member of the orchestra of the Theatre Na Fidlovačce (1999 – 2004), since then has played with the orchestra of Music Theatre Karlín and has been recording frequently with Prague Municipal Philharmonics and Philharmonic Wind Orchestra.
 Since 1999 Pavel Škrna has also taught music, has participated with other member of the BSQ in seminars and master classes both in the Czech Republic and abroad, and has led seminars for teachers of state music schools. With Pavel Fiedler he is a co-author of the book Saxophone (2013), a methodology for music school teachers, and has been often invited to participate as a panel member in competitions of state music schools. He has taught the saxophone at Prague Conservatory and Pardubice Conservatory since 2011.
Pavel Škrna plays in the Bohemia Saxophone Quartet on the Selmer Serie III tenor sax, uses "Classical" set-up: the Selmer 90 – 170 mouthpiece, the BG Tradition Gold Plated ligature and Vandoren V5 reeds No.3, 5.
"Jazz set-up": the Selmer Super Session H mouthpiece, the Rovner Dark ligature and Vandoren V5 reeds No.2, 5 or Java No.3 reeds.